Nyheter
En av marknadens minsta Embedded-PC
13.05.20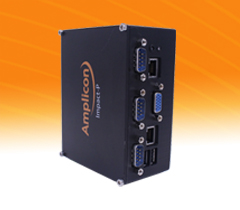 Amplicon, en marknadsledande tillverkare av industridatorer introducerar Impact-P en kompakt och kompetent inbyggnadsdator.
Impact-P-serien är konstruerad för enkel och flexibel användning och erbjuder en unik uppsättning fördelar jämfört med övriga marknaden i storleksklassen.
Den är konstruerad och tillverkad i Storbritannien. Den kan kundanpassas efter önskemål. Optioner som DC- eller PoE-matning, dubbla PoE+, olika I/O-konfigurationer, egen logotyp och även chassifärg.
Vill du veta mera om den prisvärda Impact-P serien så kontakta vår datorspecialist idag på telefon 013-35 70 30
News Archive
16.10.19

Amplicon has introduced the new Impact-D 100AL – their first ever DIN Rail PC to feature Intel® ATOM™ processors...
23.06.19

Amplicon, the UK market leading manufacturer of industrial computers, introduces a new and improved range of industrial monitors, including high performance Full-HD and 4K displays...
23.05.19

Amplicon, the UK's market leading manufacturer of industrial computers, has introduced the new KwikDraw-A Multiscreen series – The first ever rackmount console from Amplicon to offer dual or triple display output...
05.03.19

The Amplicon Impact-E x224BT has been designed to deliver flexible expandability in a compact and reliable unit...
19.02.19

Amplicon, the UK market leader in the manufacture of high-performance industrial computers has announced plans to continue its commitment to innovative, new product development in 2018 and will be introducing brand new Industrial computers every month...
25.04.17

Amplicon har introducerat den nya Impact-D 160, en kraftfull PC för inbyggda system....
09.11.15

Amplicon Impact-E 200HT är en lätt och kompakt, fläktlös embedded-PC byggd runt tredje generationens Intel® Core™ mobila processorer och DDR3 SO-DIMM-minne...
16.09.15

Amplicon presenterar den senaste modellen i en ny generation kompakta industri-PC avsedd för applikationer som kräver bra prestanda och expansionsmöjligheter, kombinerat med låg strömförbrukning...
13.08.15

Impact-R 1100F-serien är ett helt fläktlös system med Intel® Atom ™ D2550 processor. Med en högpresterande 2,5 "MLC Solid State Drive (SSD) får man ett helt tyst system...