Nyheter
Fast graphics & media processing with new DIN Rail PC
16.10.19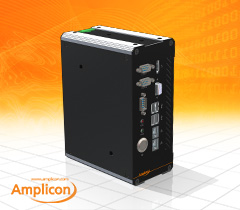 Amplicon, the UK market leading manufacturer of industrial computers, has introduced the new Impact-D 100AL – their first ever DIN Rail PC to feature Intel® ATOM™ processors.
The new system comes equipped with an extensive range of I/O ports offering maximum flexibility as well as impressive graphics capabilities.
The Impact-D 100AL is powered by the new Intel® ATOM™ Apollo Lake processors, offering exceptional performance, extensive expansion and unrivalled availability with an operational lifecycle of 15 years, all within a compact and reliable design.
Designed to outperform in the most demanding environments, the Impact-D 100AL utilises a compact fanless design, protecting against dust and particles commonly found in manufacturing facilities. In addition, the new unit offers an impressive standard operating temperature of -20°C to 70°C, with options for -40°C to 80°C, making it ideal for outdoor operations such as Transport and CCTV surveillance.
The Apollo Lake processors provide 4K immersive graphics and fast video acceleration, making the Impact-D 100AL an exceptional solution for the most demanding media output tasks including in-vehicle usage or on-board entertainment.
The Impact-D 100AL also offers users a wide range of I/O, with additional Digital I/O on the front panel for more complex procedures, such as industrial automation. Furthermore, the Impact-D 100AL provides cellular and Wi-Fi capabilities for applications requiring offsite connectivity or remote operation.
News Archive
13.05.20

Amplicon, en marknadsledande tillverkare av industridatorer introducerar Impact-P en kompakt och kompetent inbyggnadsdator...
23.06.19

Amplicon, the UK market leading manufacturer of industrial computers, introduces a new and improved range of industrial monitors, including high performance Full-HD and 4K displays...
23.05.19

Amplicon, the UK's market leading manufacturer of industrial computers, has introduced the new KwikDraw-A Multiscreen series – The first ever rackmount console from Amplicon to offer dual or triple display output...
05.03.19

The Amplicon Impact-E x224BT has been designed to deliver flexible expandability in a compact and reliable unit...
19.02.19

Amplicon, the UK market leader in the manufacture of high-performance industrial computers has announced plans to continue its commitment to innovative, new product development in 2018 and will be introducing brand new Industrial computers every month...
25.04.17

Amplicon har introducerat den nya Impact-D 160, en kraftfull PC för inbyggda system....
09.11.15

Amplicon Impact-E 200HT är en lätt och kompakt, fläktlös embedded-PC byggd runt tredje generationens Intel® Core™ mobila processorer och DDR3 SO-DIMM-minne...
16.09.15

Amplicon presenterar den senaste modellen i en ny generation kompakta industri-PC avsedd för applikationer som kräver bra prestanda och expansionsmöjligheter, kombinerat med låg strömförbrukning...
13.08.15

Impact-R 1100F-serien är ett helt fläktlös system med Intel® Atom ™ D2550 processor. Med en högpresterande 2,5 "MLC Solid State Drive (SSD) får man ett helt tyst system...