Nyheter
Amplicon announces plans to continue leading the industrial PC market
19.02.19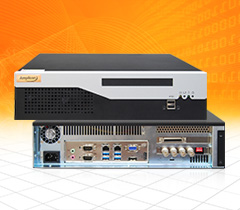 Amplicon, the UK market leader in the manufacture of high-performance industrial computers has announced plans to continue its commitment to innovative, new product development in 2018 and will be introducing brand new Industrial computers every month.
The first release is the Amplicon Impact-R 156/157, a powerful Mini-ITX embedded computer, designed to outperform in industrial applications that require demanding expansion functionality.
The Amplicon Impact-R 156/157 Mini-ITX embedded computer features a sleek and compact design suited to desktop, rack and wall mounting.
The new systems utilise the Intel Q170 chipset, delivering support for both 6th and 7th generation Intel® Core™ processors as well as offering increased bandwidth, full integration and functional expansion making them ideal for gaming, kiosk, digital signage, medical/healthcare, defence and industrial automation applications.
The Impact-R 156/157 offers advanced features, including 4GB pre-installed DDR4 memory (up to 32GB), RAID 0/1 compatibility and ultra-fast transfer speeds for critical operations where data security is top priority. In addition, the new models feature a local SIM card slot, enabling cellular connectivity options for applications where cabling or Wi-Fi is restricted, such as on-road vehicle applications.
Furthermore, the Impact-R 156/157 comes with three display outputs for monitoring purposes and can be purchased with an optional DVD drive and wall/rackmount kit, helping businesses to implement their embedded computing needs with ease.
News Archive
13.05.20

Amplicon, en marknadsledande tillverkare av industridatorer introducerar Impact-P en kompakt och kompetent inbyggnadsdator...
16.10.19

Amplicon has introduced the new Impact-D 100AL – their first ever DIN Rail PC to feature Intel® ATOM™ processors...
23.06.19

Amplicon, the UK market leading manufacturer of industrial computers, introduces a new and improved range of industrial monitors, including high performance Full-HD and 4K displays...
23.05.19

Amplicon, the UK's market leading manufacturer of industrial computers, has introduced the new KwikDraw-A Multiscreen series – The first ever rackmount console from Amplicon to offer dual or triple display output...
05.03.19

The Amplicon Impact-E x224BT has been designed to deliver flexible expandability in a compact and reliable unit...
25.04.17

Amplicon har introducerat den nya Impact-D 160, en kraftfull PC för inbyggda system....
09.11.15

Amplicon Impact-E 200HT är en lätt och kompakt, fläktlös embedded-PC byggd runt tredje generationens Intel® Core™ mobila processorer och DDR3 SO-DIMM-minne...
16.09.15

Amplicon presenterar den senaste modellen i en ny generation kompakta industri-PC avsedd för applikationer som kräver bra prestanda och expansionsmöjligheter, kombinerat med låg strömförbrukning...
13.08.15

Impact-R 1100F-serien är ett helt fläktlös system med Intel® Atom ™ D2550 processor. Med en högpresterande 2,5 "MLC Solid State Drive (SSD) får man ett helt tyst system...